We Read the Headlines Too!
When reading headlines in the news regarding real estate, don't confuse price declines or market corrections with a crash. Ask yourself, how long have you owned your home? Chances are that even if you purchased within the last few years your home has increased in value. We are currently experiencing our 4th straight month of price and sales declines. However, for perspective, even with these declines, sales and average prices today are further ahead of 2018, 2019, 2020 and 2021 (a record-breaking year). Read on to compare real estate market statistics.
Heading into the second half of 2022.
Taking a look at these numbers from January to June, sales and average price are down while active listings and months of inventory (M.O.I.) are up. Months of inventory rose 17.3% to 2.5. The GTA has been operating with < 1 month of inventory for the past few years which drew multiple offers and provided less negotiating power for buyers. This means that the red-hot seller's market we were experiencing at the beginning of 2022 has turned into a much more balanced market.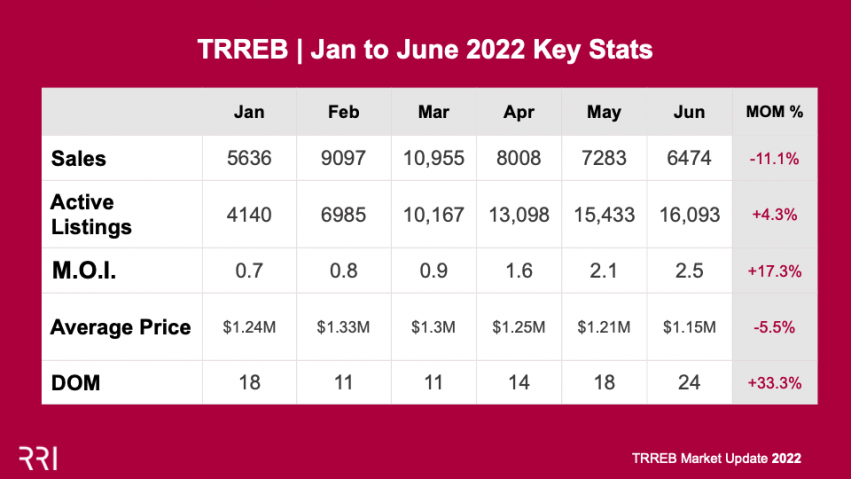 These are the number of sales that occurred between July 2021 to June 2022. January of this year started with 5,636 sales, followed by two months of increasing sales. March hit a high with 10,955 sales, the highest over the duration of the past 12 months and this happened in the shadow of the single largest sales year ever.
After enduring months and months of record breaking numbers and a red-hot seller's market we became accustomed to that climate. With sales now starting to decline it may feel like the market has stopped but in reality it's simply normalizing and becoming more sustainable.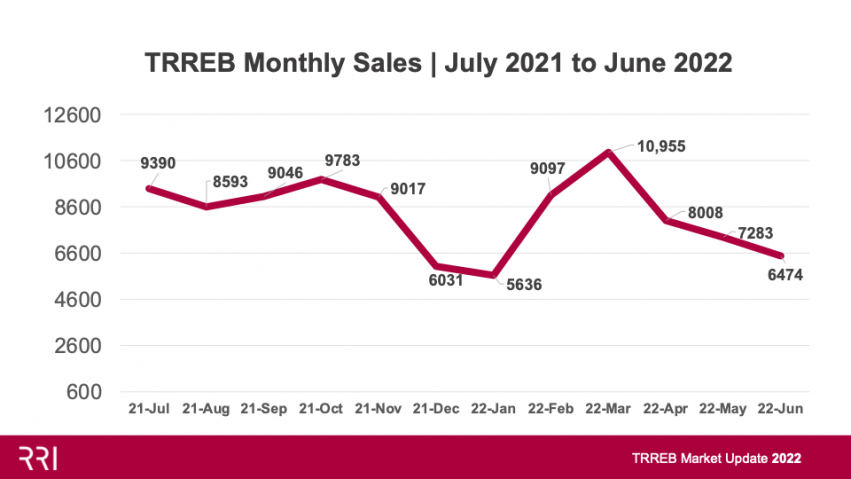 Follow this graph as it displays monthly sales over the last 5 years. 2018 and 2019 are relatively steady years. Then March of 2020 Covid strikes and sales go way down. 2021 the market is unbelievably out of control reaching almost 16,000 sales at one point. And what's interesting is that 2022 is the second best year in the last 5 years.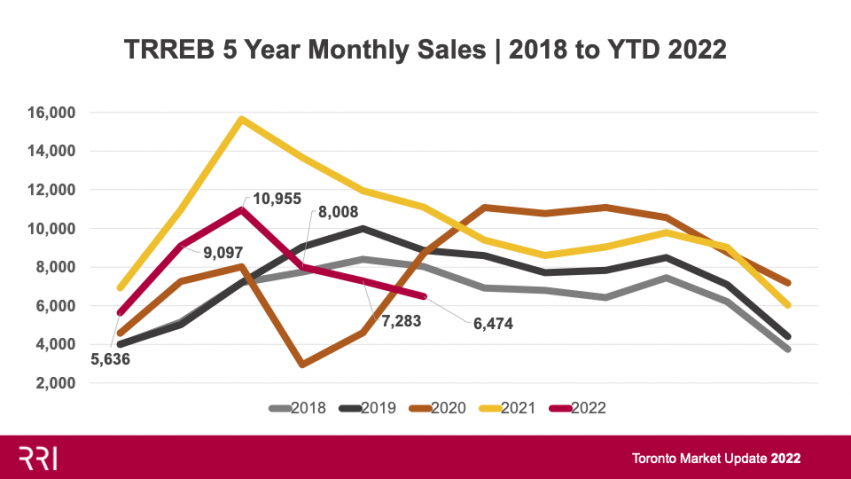 Here are the number of sales in the first half of each year from 2018 to 2022. At first glance, a 32.5% drop in sales from last year may seem daunting but there is another viewpoint. 2018 and 2019 are reasonably normal years, and then sales cease during March, April and May in 2020. Pent-up demand combined with abundant savings send sales skyrocketing in 2021. And again, 2022 is still the second best year in the last 5 years.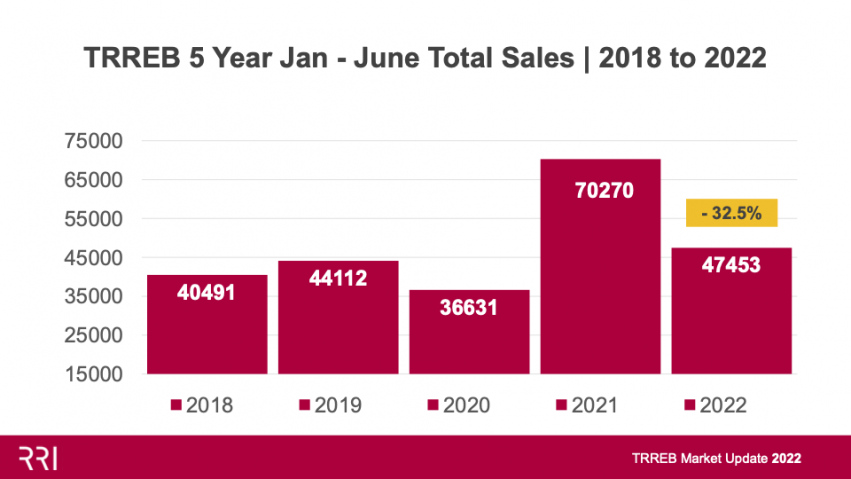 Consider this visual with TRREB's 5 year average sale price. 2022 starts at $1,242,793 and drops 7.8% YTD to $1,146,254. If you are a seller still hoping to get the same price you could in February, take a step back and calculate the increase in value of your home within the last 5 years. Undeniably 2022 is still way ahead.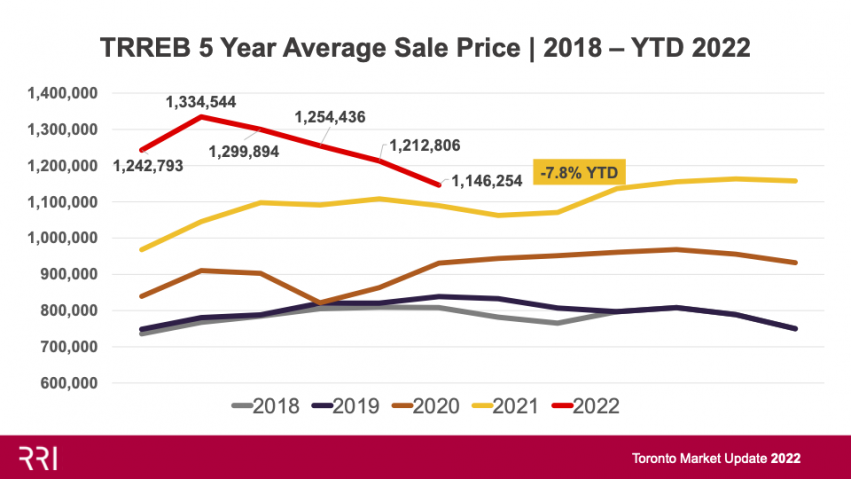 As buyers continue to benefit from more choice, the annual rate of price growth has moderated. "The Greater Toronto Area (GTA) population continues to grow and tight labour market conditions will drive this growth moving forward. Despite more balanced market conditions resulting from rapidly increasing mortgage rates, policymakers must continue to take action to boost housing supply to account for long-term population growth. With savings high and the unemployment rate still low, home buyers will eventually account for higher borrowing costs. When they do, we want to have an adequate pipeline of supply in place or market conditions will tighten up again," said TRREB Chief Market Analyst Jason Mercer.
Sources: TRREB Market Update 2022 | Richard Robbins International (RRI)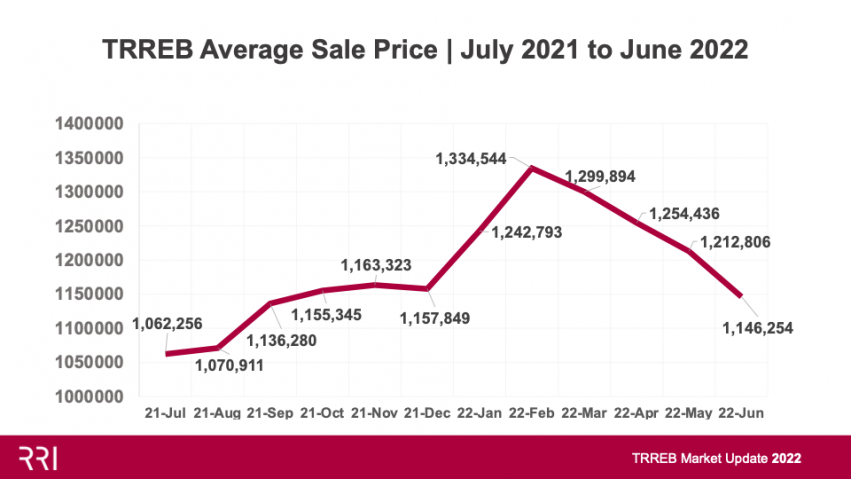 We Can Help
There's uncertainty about where the market is headed. Whether you're a home seller or a home buyer, our team of expert real estate professionals can help. We are skilled at negotiating home prices and working with clients during challenging times.
Let's Talk